Pre Paid Maintenance
Focus on enjoying your new Hyundai, not on how to maintain it
As much as you enjoy taking your Hyundai vehicle out every day, it's still important to bring it in for routine maintenance. Hyundai Protection Plan's Pre-Paid Maintenance product suite offers several ways to manage the expense of keeping your vehicle running well and in compliance with the factory warranty. Most importantly, you can select the coverage level that fits your driving style.
No matter which level of coverage you choose, you can enjoy the following benefits.
Hyundai-backed maintenance you can trust
Coverage of scheduled oil and oil filter changes
Flexible plans up to 7 years/105,000 miles to match your driving habits and the Hyundai-recommended service schedule
Services performed by factory-trained technicians who have been trained to comply with factory warranty requirements
Nationwide service available at all participating Hyundai dealers
Transferable coverage may add to your vehicle's resale value if you decide to sell it to a private party
Making out-of-pocket expenses manageable
Protect yourself from rising maintenance costs—covered services are at today's prices, protecting you from future price increases
Convenient payment options—pay up front or include a monthly payment within your lease or financing agreement
Choose the Level of Coverage that is right for you
Depending on your driving preferences, selecting a Pre-Paid Maintenance program that is right for you is as easy as 1, 2, 3: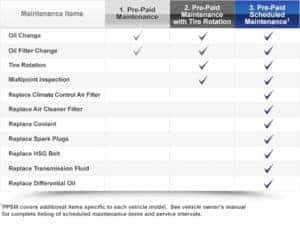 1) Pre-paid Maintenance*
This is HPP's basic Pre-Paid Maintenance solution. This includes coverage of scheduled oil and oil filter changes, with term and frequency options based on your driving habits.
2) Pre-Paid Maintenance with Tire Rotations*
Enjoy all the benefits that come with basic Pre-Paid Maintenance, plus the added coverage of tire rotations and
multi-point inspections.
3) Pre-Paid Schedule Maintenance*
Enjoy all the benefits that come with Pre-Paid Maintenance with Tire Rotations, plus all scheduled maintenance items listed in your Hyundai owner's manual2. The Pre-Paid Scheduled Maintenance solution covers the maintenance items listed in the owner's manual for your vehicle year and model. Covered items include replacement of components most commonly subject to normal everyday wear, such as air filters, coolant, spark plugs, as well as an extensive list of critical inspection items, see your owner's manual for full details.
View Disclaimer
2) Services must be redeemed within 6 months or 5,000 miles, whichever occurs first, of the scheduled interval.
*Available at participating Hyundai dealers only.
All transactions related to the Hyundai Protection Plan Pre-Paid Maintenance, Pre-Paid Maintenance with Tire Rotations, and Pre-Paid Scheduled Maintenance plans are governed solely by the provisions of the agreement. These products are optional and are not insurance. This page provides general information and should not be solely relied upon when purchasing coverage. Please refer to the applicable agreement for specific coverage details, including limitations and exclusions. Coverage may vary by state. Not all vehicle models may be eligible for coverage. Please see your dealer for more information.
Service or repairs not covered by the applicable plan are customer's responsibility, even if additional services are recommended by the dealer or revealed by inspections covered by the plan. Consult the vehicle's scheduled maintenance guide for factory-recommended service intervals.
Provided through Hyundai Protection Plan, Inc., (doing business in California as Hyundai Capital Extended Services), 3161 Michelson Drive, Suite 1900, Irvine, CA 92612, a member of the Hyundai Motor America family.